Dragons are continually looking at alternative Outreach Rugby provision to widen the rugby landscape and to engage with rugby enthusiasts from all walks of life.
We are aiming to provide a diverse range of opportunities, so everyone can enjoy playing or learning through various forms of the game #JerseyForAll.
Through the vehicle of our provisions, we endeavour to positively impact on people's lives within our region.
The benefits are improved physical well-being and mobility but also improving self-esteem and breaking down social barriers by encouraging participants to work as a team or in small groups and ultimately, making everyone feel valued.
We use our regional identity as an important tool to promote participation and recruitment with the aim of providing a very positive experience and massive long-lasting impact on all our participants lives.
Alongside our fully established Inclusion Provisions, the Outreach support currently being developed & supported throughout the Region include:
CPI CARE
Serennu Children's Centre
Positive Futures
Early Intervention
Urdd
BAME Community Support
Outreach Holiday Camps
Fit & Fed
Region on the Road – Club Support
Prison rehabilitation
Play on Development – Little Legends
Off the Streets
Multi-Sports: Health & Wellbeing
Give it a Try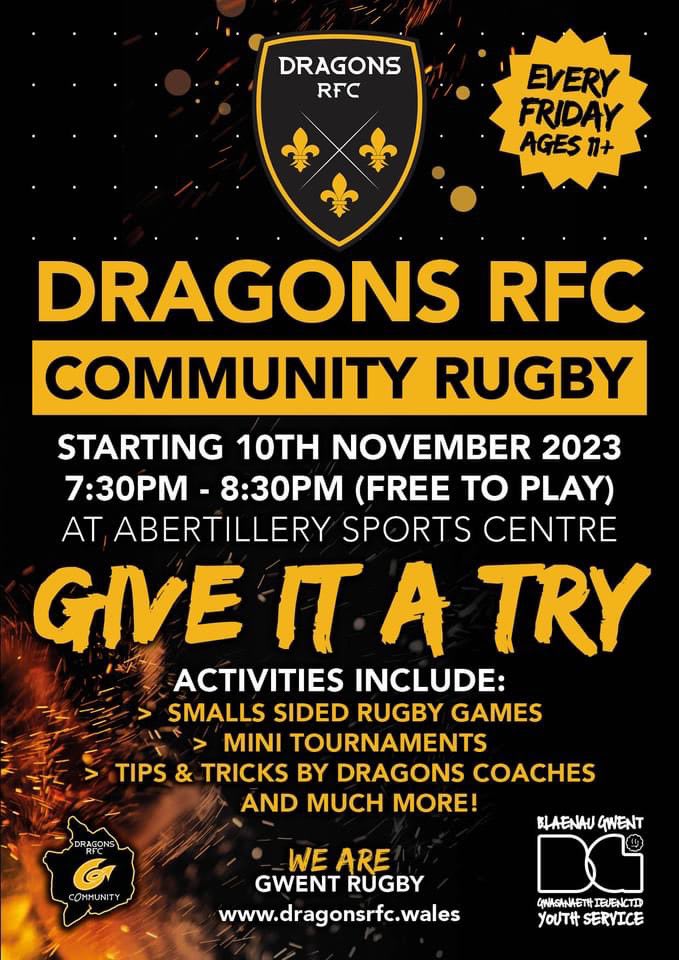 INCLUSIVE COMMUNITY CLUB
The ICC provision aims to engage children and young adults with disabilities in the local community through non-contact tag-based rugby sessions. All sessions are tailored specific to participants needs.
All levels of ability are welcome between the age range of 6 to 16 years. Keep an eye out for more details on our social media threads:
For more information contact Caitlin Rees on caitlin.rees@dragonsrfc.wales
CHEPSTOW GOLD TOUCH RUGBY
Chepstow Gold Touch Rugby Club - as in the Golden Generation - run Touch Rugby sessions at Chepstow RFC.
All are welcome - but you must be over 40 (or close to it!) - on Tuesday nights from 7.15pm, followed by refreshments.
It costs just £8 a month, from which a sizeable annual donation goes back into junior rugby.
The ethos is simple: Laugh a lot, get fit and make some new buddies in a safe and inclusive environment!
For more information email: chepstowgold@gmail.com follow @chepstowgold on Instagram or CLICK HERE
Discover more about Chepstow Gold with this blog - click HERE